Colinton
, established 6 kilometers north from the junction of the Brisbane valley and the D'Augilar Highway, has a general store, food and service station.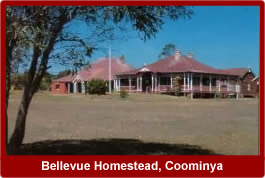 Coominya reputation developed around its turn-of-the century buildings, including the famous Belevue Homestead, which was restored by the National Trust.
Esk holds the administrative office for the Council of the Shire of Esk. Esk has a 27 Bed hospital, medical services, full range of shops, three motels, two hotels, a guest house, antique and craft shops, an attractive caravan park and golf course. Esk boasts a beautiful park located conveniently in the centre of the town with modern facilities nearby.
Fernvale is situated at the southern entrance to the shire on the Brisbane Valley Highway and 24 kilometers from Ipswich. The town boasts gift shops, galleries, hotel/motel, post office, antique and craft shops. You can also enjoy the markets every Sunday.
Glamorganvale village centres around their hotel and dance hall, Stud beef cattle breeding is well established, as are modern horse studs.
Harlin is situated 14km north of Toogoolawah on the Brisbane Valley Highway. It offers a general store, hotel/motel and a service station. Harlin is yet to be discovered by folk who like the challenge of freshwater fishing.

Linville has a large timber yard, as well as a general store, post office and historic hotel. Nestling at the eastern spur of Balfour Range, it is a starting point for those who enjoy rugged bushwalking on Mount Spencer. It's also a noted place for recording the numerous species of Australian bird life.


Lowood
is 7 kilometers west of Fernvale. It is serviced by commercial and retail shopping facilities including craft and antique shops, two hotels, a caravan park, ambulance and police station. Lowood is surrounded by rapidly developing rural residential estates. A well-kept golf course is a fitting neighbor to the Lockyer and Brisbane Valley Enterprise Centre and the Lowood Light Industrial Park.
Minden proves popular for those wanting an attractive yet convenient rural residential lifestyle. A park developed near a freshwater lagoon offers tranquil water and is a natural sanctuary for birds.
Moore in the north of the Shire has a general store and service station. It has floodlit all-weather tennis court s supported by an excellent picnic area with all modern facilities.
Somerset Dam township started life as the construction village for the works on Somerset Dam wall. Some 100 cottages were built and most still stand today. The town is popular as a base with water skiers and the fishing fraternity alike. Below the dam wall are excellent camping and caravan facilities.
Tarampa, a picturesque hamlet set in lush small crop growing country. There is a general store and hotel in the district.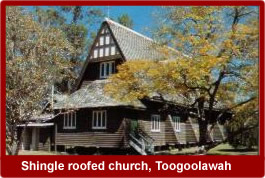 Toogoolawah is the principle commercial centre servicing the northern part of the Shire. The town boasts three hotels, a motel, swimming pool, caravan park, public library, golf course and a lawn bowls rink, ambulance, police station, magistrates courts, and medical services.
ESK INFORMATION CENTRE
82 Ipswich Street
Esk QLD 4312
Ph: (07) 5424 2956
Fernvale Tourist Information Centre
Brisbane Valley Highway, Fernvale
Lake Wivenhoe Visitor Information Centre:
(07) 54278100
Lowood Information Centre and Community Hub: (07) 5426 3081