Perth to Broome (West Australia) - Sep 2009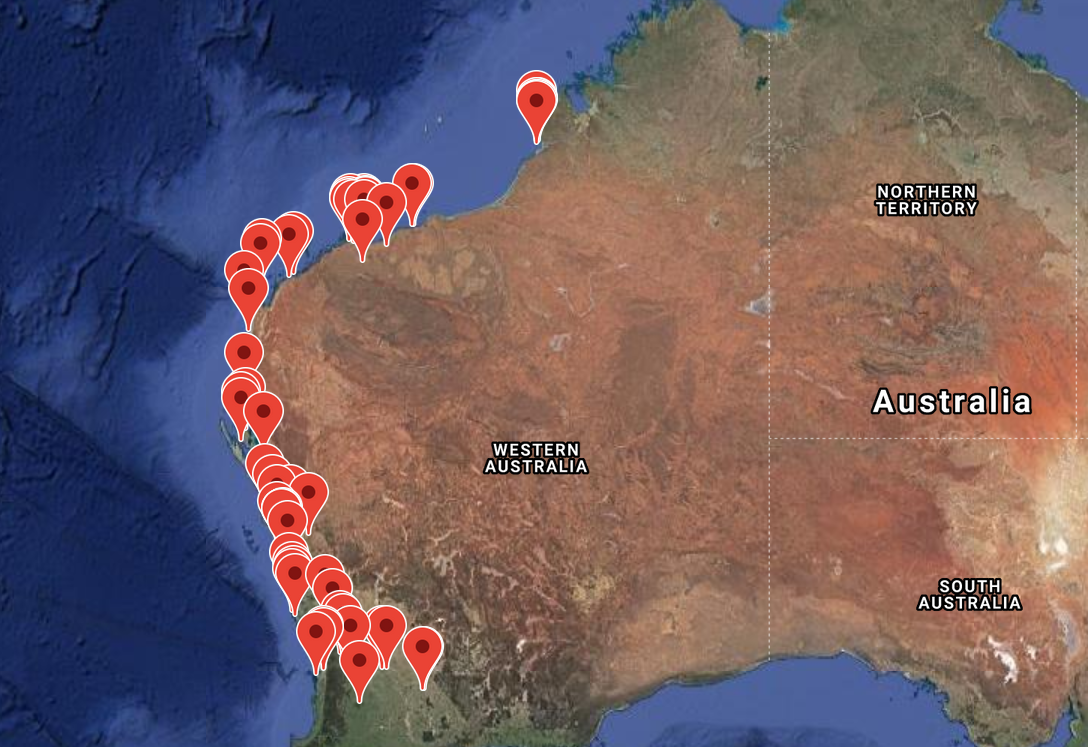 ---
WA trip
Sat 5th
Flight to Perth. Overnight in an 1800s B&B in Fremantle.
Telstra 3G & Optus GPRS coverage + WiFi
---
Sun 6th
Dryandra? Bushland Couple of historic cemeteries we geotagged. Afternoon at Wave rock and Mulka's cave. O/n Hyden. Telstra 3G coverage, no Optus
---
Mon 7th
3rd largest monolith in Australia (Kokerbin Rock). York Motor Museum. Start of day in wheat area, York in Avon valley and more treed.
Toodyay and Katrine St Saviours stone church. O/N York
Telstra 3G & Optus GPRS
---
Tue 8th
Drove through Swan river valley back to airport.
Sophie Reid of Flight Centre had arranged for swapping the cramped, rattly, under-powered Toyota Camry for the Falcon we had paid for. (Thumbs down to Europcar).
Bassendean where Kerry bought an art work made from Vegemite. Wine tasting at Sandalford. Spanish mission at New Norcia. Wildflowers north of Moora. Passed Emu Downs wind farm. Overnight Cervantes. Telstra 3g, no Optus
---
Wed 9th
The Pinnacles in morning. Saw emu tracks and kangaroo. Beach at Cervantes is aqua blue and still. Protected by islands/reefs out few 00m. Then Emu Downs wind farm.
Cervantes overnight again.
---
Thu 10th
Molah lookout
Jurien bay - old jetty and new harbour
Dynamite bay at Green Head
Old mill and other old buildings at Dongara
Greenough district old buildings including National Trust historic village - several old cemeteries and Temperence Hall - geotagged Walkaway and Greenough pioneer cemeteries (failed to find old At Peters Catholic which has old cemetery behind it)
Overnight Geraldton
Telstra 3G coverage, no Optus
---
Fri 11th
WA museum - Batavia story, old Jail, HMAS Sydney memorial, wildflowers on road near Yuna, Mullewa lone grave
---
Sat 12th
Northampton show - horse jumping, CASE tractors run a grid of base stations for high precision GPS for robotic control, champion clover, chooks
Historic Northampton
Met Prince Leonard at Hutt River Provence
Kalbarri national park - river gorges, wildflowers, waves crashing into cliffs and natural bridge
---
Sun 13th
Hamelin Pool stromatolites and 2 lone graves. Lookouts onto shark bay and other bay over sea grass
O/N Denham
Telstra 3G, no Optus
---
Mon 14th
@7am optus GPRS coverage kicked in and a batch of SMS and email arrived
At Monkey Mia at 7:30 for the potential feeding starting at 8. Well the dolphins were there already waiting for their first snack. The 5 females that they feed were all there along with their calves and were impatient. So we had a talk up to 8 when they were fed. They wait 25mins minimum between feeds, but the dolphins were back way sooner. The max 3 feeds were done before 10 well before the advertised 12. Kerry then took a sail/powered yacht cruise to a pearl farm and sea grass beds where she saw many dugongs and a couple of bow surfing dolphins
---
Tue 15th
Eagle Bluff looking down on the shallow water. Saw several sharks, a ray and lots of sea birds.
Carnarvon mile long jetty (though only 800m since 2007 fire, should be repaired in 6-8 weeks)
Pioneer cemetery and OTC dish closed 1987
Telstra 3G but no Optus
---
Wed 16th
Stopped at Coral Bay
Many many termite mounds (head high)
Photographed Exmouth cemetery (opened 1965ish)
Telstra 3G but no Optus
---
Thu 17th
Drove thru North West Cape USN communications 2.5km VLF aerial array,
Down west side of peninsula national park - turquoise water reefs just off shore making good snorkling area. Along side is Ningaloo Reef.
---
Fri 18th
Went searching for old Olslow cemetery but dirt road too rutted, not as much left of ruins as brochures indicate
O/N Onslow
Telstra3G, no Optus
---
Sat 19th
Salt mines, kilometer long trains, red dog memorial, very rocky building sites in Dampier
Telstra3G, no Optus
---
Sun 20th Dampier
Drove up to Millstream National Park on the non-satnav road(mining?) paralleling a dual track mining railway where we saw >km long trains coming down full or going up empty
Point Samson had a site of old jetty, and a pretty beach.
Visited abandoned town Cossack where remains of many buildings and a cemetery
Failed to find decent pace for dinner within 100km.
---
Mon 21st Dampier
tour of the iron ore port and crushers. 3 km long jetty and 4km trains at Port Lambert. Again toured Cossack. Roebourne old gaol was starting point of tour and there are many old buildings in town with impressive stone church on top of hill, post office.
---
Tue 22nd Dampier
Visitor centre of Woodside's north west shelf gas project. On site is a gas cleaning and refrigeration facility to take gas down below liquification temp of -131? down to -161 where stored and pumped into tankers for export. Byproducts are light diesel oil. Off shore one rig does some processing to increase amount of condensate that flows back to shore, it is central point for a number of rigs and more wells. They have ability to drill down, and then across. There is also a ship Cossack Pioneer which is in a mostly oil field with some gas that processes direct to oil tankers and pipes gas back to gas rig. Evaporation off the LNG is used to run onshore power station and to fuel tanker ships.
Saw Dampier solar salt works, and closed train museum
---
Wed 23rd Port Hedland
Visited Whim Creek pub, but it doesn't open until 4pm since the local mine closed. Many hungry pee-wees in grounds and a number of caged parrots
In Port Hedland, Dalgety representative house. There are huge salt piles (Rio) and iron works (BHP).
telstra3g, no Optus
---
Thu 24th to Broome
Drove and drove
Walked around Chinatown.
Room has the shower outside, and had dinner cooked on the room's BBQ
Telstra 3G, no optus, but told there is Vodaphone in some places
---
Fri 25th
Willie's creek pearl Pearl Farm down a dirt road and across the tidal flats
9m tides - enough to submerge carelessly parked cars
They collect oysters from the wild each year unlike shark bay which had hatchery. Pearls here are large white and gold colour, shark bay were Black Tahitian
Pearl lugger museum tour afternoon
Town beach and Broome Pioneer cemetery, also saw current cemetery including separate Japanese, Chinese, and Afgan (very few headstones)
---
Sat 26th
Seen low tide at cable beach and town beach on opposite sides of peninsula, saturday markets, museum, port in morning and planning Matso's micro-brewery, crocodile farm in afternoon 2 different crocs stalked us, one lunging towards Kerry, luckily wire fence in between).
Optus GPRS coverage near port
---
Sun 27th
Broome shops and sunset at Cable Beach
---
Mon 28th
Flew home
---
After the trip 2 years ago with no Vodaphone coverage and little Optus, on this trip along the West Australian coast we tracked mobile phone and data coverage between out iPhones (David on Telstra and Kerry on Optus). Telstra shone through with coverage in all the towns, while Optus was absent everywhere including Fremantle as far a 3G data coverage, and patchy at best elsewhere.


Google Map Perth to Broome (West Australia) - Sep 2009

All the photos in Perth to Broome (West Australia) - Sep 2009
Holiday main page
All the holidays.
© Copyright 1996-2020 Kerry Raymond and David Horton

---