edjpgcom - A JPEG Comment Editor by Erik Magnuson
edjpgcom is a free Windows application that allows you to change (or add) a JPEG comment in a JPEG file. That's all it does. All other fields in a JFIF or Exif file are left untouched. It even keeps the file system timestamp! It's based on the rdjpgcom and wrjpgcom utilities from the Independent JPEG Group. (Heck, it's essentially the code from these two programs combined with a basic dialog control.)

Here is a screen shot: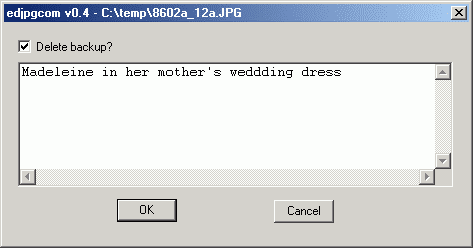 edjpgcom is designed to be used as either an external program in another application (like ThumbsPlus) or the Windows context menu (i.e., when you right-click on a file) or as a "Send To" menu item. It has no File Open menu of it's own, so be sure that you know how to setup one of these mechanisms before you download it. For more details, you can look at the README file. When you are ready, the edjpgcom.zip file is less than 9 kb. I hope that you find this program useful. (original edjpgcom.zip and readme.txt have gone missing).
New in v0.4! Supports a default comment template! See readme for details.
---

Erik Magnuson
edjpgcom@yahoo.com Last modified: Sat Jan 05 09:09:53 Eastern Standard Time 2002