Brisbane
Index
Sugars - Qld
Surnames
Can You Help
Links
"Parsee" - Passenger List - 11 Jan 1853 - Moreton Bay
Moggill - Cemetery - Pioneers
Fifty Years in Queensland - Living Pioneer Colonists (1909)
Sign My Guestbook
View My Guestbook

"When an old person dies ... it is like a library burning to the ground"


I came across that quote some time ago. At that stage my father was quite ill...the message hit home and my research began. My father died shortly after...I am pleased to say that we spent time together with me discovering and him rediscovering our 'extended' family. I suppose there is a moral to this story...learn what you can before it is gone!

Well, that's how the genealogy bug bit and I'm yet to find the cure. My research has been mainly based in Australia. I am now keen to uncover the origins of the Sugars family. Hence this page. Hopefully, someone, somewhere is researching the Sugars family or has a connection with the Sugars family.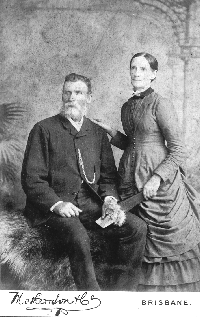 My great grandfather, Thomas Sugars, was born in Ampthill, Bedfordshire, England. He married Sophia nee Breed. They arrived in Australia (Moreton Bay) in 1857, aboard the ship "Irene". Thomas and Sophia eventually settled in Moggill. Little is know of their first born daughter, Sarah Ann. It would appear that she died during the voyage or shortly after their arrival. Thomas and Sophia had a further 10 children, Thomas George, Sarah Ann, Mary Ann, Elizabeth, George, William, Frederick Charles, Walter and Albert Edward.

If you have any Sugars in you family tree... please contact me. All letters/enquiries will be answered.



Top of Page
Can you identify this person??


This one photograph from my collection. It is simply labled "Cousin -went to New Zealand". I assume the surname is Sugars. Any takers? I would love to track down this link.



Top of Page
Top of Page This is my list to date. I will add more information as the page progresses.


Sugars (England - Australia)
Breed (England)
Roberts
Stinton
Thiesfield (Germany - Australia)
Page (England)
Merritt (England)
Top of Page
Cyndi Howell - THE Genealogy Link

Genealogist's Index

Rand Genealogy Club

Barel of Links (Genealogy)

Switchboard

Searchable Genealogy Links

Bill Holder's Home Page

Janyce's Root Diggin Dept

Genealogy SF

Genealogy Resources

Lori Hoffman's Genealogy Is



Bedfordshire Family History Society

British Genealogy Resources

Brian's

List

Genealogy in Australia

Patricia Downes' Genealogy Pages (First, Second, Third Fleet)

Dead Persons Society - Canberra

Dead Persons Society - Melbourne

Australian Family Tree Connections

Moggill - Local History - Families - Burial List

Terence Nichols

Telstra (Whitepages - Australia)

Family Genealogy - A Passage in Time

Greta's Page (Cloherty and Richards Family History)

" The Parchment Pages " - The One Stop Genealogy Shop
Top of Page
You are vistor number :

Since 9th Jan 97

---
Sugars Genealogy
This page created and maintained by Bruce Sugars
Last updated 16 June 1997
Copyright ? 1996, 1997 by B. Sugars